Kingsbarns
Golf
Links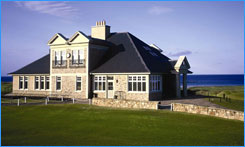 Kingsbarns golf links is located in Fife, Scotland and it can trace its roots as far back as 1793. It was re-established as a 9 hole golf course designed by the now famous Willie Auchterlonie and built in 1922. It has since been re-designed, re-modelled and fully developed to its current magnificent standard by American developers Mark Parsinen and Art Dunkley, and designed by Kyle Phillips. From nose to tail this magnificent course follows the dramatic Fife coastline for some mile and a half.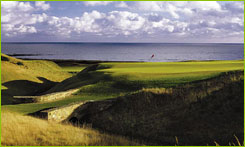 Your golf holiday in Fife will be enhanced by a visit to this magnificent Fife golf course. Visit Fife and see how golf should be played, as Kingsbarns will be co-hosting the 2010 Alfred Dunhill Links Championship from 2nd to 10th October 2010.
Golf Fife will be pleased to arrange all your golf and accommodation requirements, from your arrival at Glasgow or Edinburgh airports or rail stations, until your departure dates.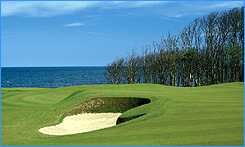 For more information on the accommodation and golf packages Golf Fife have to offer, browse though the site for a varied selection of accommodation and golf courses throughout Fife. Contact one of our Golf Fife consultants who will contact you within 24 hours. You will not be disappointed if you choose Fife in Scotland for your destination and www.golffife.com for your golf and travel requirements.
EMAIL US - (Please include your daytime and evening phone number)
"a company run by golfers for golfers"