Ladybank
Golf
Club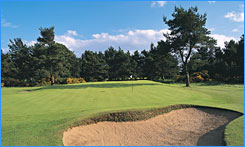 GOLF FIFE is delighted to offer you Ladybank Golf Club as of the most outstanding parkland courses in Scotland. The course is set in a beautiful woodland setting and is a serious test of golf for players of all levels of ability and handicap. Used as a venue for the British Open qualifying, Ladybank requires driving accuracy off the tee as any wayward drives may end up in the woods which surround most of the holes.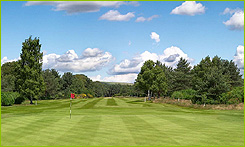 It is indeed a golf course of breathtaking beauty and is ideally located within easy driving range of any of the Fife Hotels in which you may be staying. It has proved extremely popular with visitors over many years and many of the top professional golfers in the world have graced it's fairways and greens.
Ladybank is also renowned for the warm welcome afforded all visitors and the catering staff at the course will be delighted to offer you breakfast, lunch or dinner at very reasonable prices. After a satisfying round on the course you can relax in the traditional clubhouse and sample the wide range of Scottish whiskies and beer again, available at very reasonable prices
The course is also situated within easy reach of both Glasgow and Edinburgh airports and GOLF FIFE will be delighted to organise your transport to and from the airport to your chosen hotel.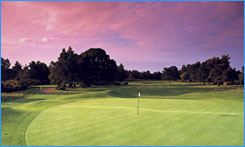 Of course, Ladybank can be played as part of your total golfing holiday package in Fife, and we at Golffife.com will be delighted to organise your complete tour including any transport or excursion requirements.
A golfing holiday in Fife would not be complete without a visit to this superb course. You can guarantee that after playing Ladybank you will definitely want to return at sometime in the future.
For more information on Ladybank and all our other golf courses in Fife, Scotland, please fill out our contact form on our "contact us" page or EMAIL US - Please include your daytime and evening phone number and one of our consultants will contact you within 24 hours.
"a company run by golfers for golfers"