Old Course Hotel,
St Andrews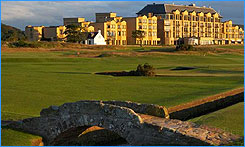 With St Andrews, Scotland hosting the 2010 Open, the golfing world has again been reminded of how St Andrews, and especially the Old Course Hotel, provides the perfect location for a golfing holiday in Fife.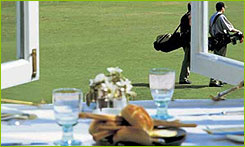 Boasting 7 golf courses within the town's boundaries and some 45 courses in Fife, Golf Fife can offer a golf course to suit every standard and perfect accommodation at the Old Course Hotel. As a member of the Leading Hotels in the World, the Old Course Hotel provides sumptuous room types with terrific views – from the Eden Parkland rooms, the Old Course rooms and suites, Fairway suites and finally the Deluxe suites, there is a room to suit everyone on their golfing holiday in Fife.
You will also be spoilt for choice with the dining options – relax in the world famous Jigger Inn, chill in the Sands Grill or treat yourself to the Road Hole fine dining. After your meal why not experience the whisky tasting room. You can also enjoy the health suite, swimming pool and Kohler Water Spa. Golf Fife can organise and book everything in advance.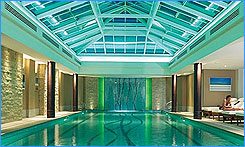 For the non-golfers in your party we can organise anything from sea fishing locally to gliding at nearby Scotlandwell, or just relax in the magnificent surroundings.
With a fair wind an hour and a half from Glasgow airport and almost half of that from Edinburgh airport reaches your golfing destination in Fife Scotland.
For further information about your golfing holiday in Fife please EMAIL US - (Please include your daytime and evening phone number)
"a company run by golfers for golfers"